CITYPLACE IS LOCATED AT:
333 St. Mary Ave at Hargrave St
234 Donald St (entrance to Office Tower)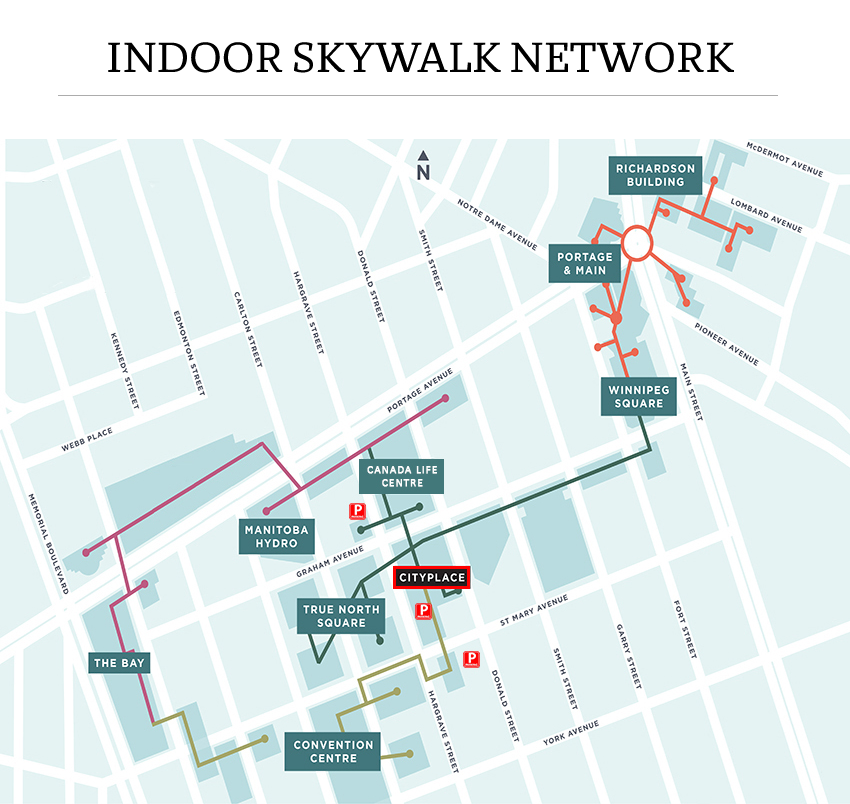 Conveniently located in
Downtown Winnipeg
Cityplace is conveniently located in the centre of Downtown Winnipeg and is accessible by car, transit, by bike or by foot. We are connected directly via skywalk to the Millennium Library, Canada Life Centre arena (formerly Bell MTS Place), True North Square, the RBC Convention Centre, and the rest of the major downtown amenities. The skywalks are open from 7am – 10:30pm, 7 days a week.
There are 20 Winnipeg transit bus routes directly connected to Cityplace via the Graham Ave transit corridor and dozens more within a 1 block radius. Find out more here.
We have both indoor and outdoor parking for your convenience. Cityplace covered parking lot entrances are located at Hargrave St and Graham Ave (beside Tavern United), as well as heated indoor parking at the main Hargrave St and St. Mary Ave lot. There is an uncovered lot at the corner of Donald St and St. Mary Ave (see "P" marked on the above map).
There is metered parking on Hargrave St, St Mary Ave and Donald St. If parking on the street, please take note of parking hours as many streets in the downtown area do not allow parking during rush hour (before 9am and after 3:30pm).
Bike Parking: Enter via the Donald St doors and walk your bike (please don't ride it through the mall) to the service elevators (located next to the Security/Guest Services). Bike racks are available on the 3rd floor parkade. 
For more information about the lots, please click here.
For any parking inquiries, please contact Impark 204-989-1856